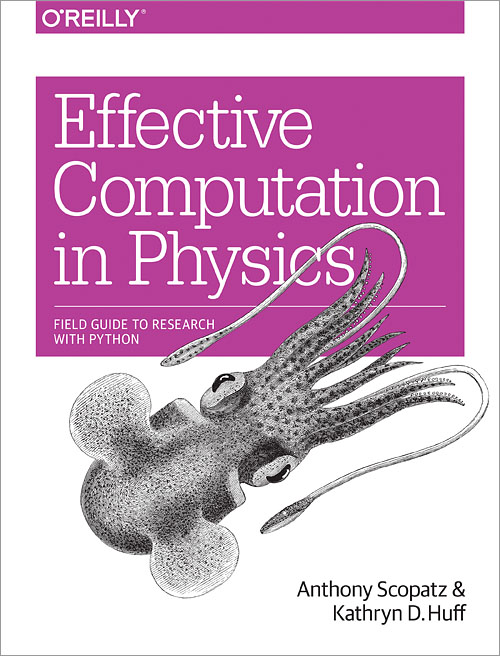 Finally! Effective Computation in Physics is a manual for starting up or honing your programming and software skills even though your background is in the physical sciences or engineering. This book is your field guide to computing and research in the context of the work that you are already doing. We cover all of the big topics that you'll need, from how to program in Python, how to use important Python third party libraries such as NumPy and Pandas, how to interact with the command line, how to write quality publications using LaTeX, and we even dive into the social aspects of science and software development by teaching you Git and GitHub.
This book is aimed at people from all physics-based fields. We take this to mean physics, astronomy, astrophysics, geology, geophysics, climate science, applied math, biophysics, nuclear engineering, mechanical engineering, material science, electrical engineering, and more!
All too often in the physical sciences, people are asked and expected to "just pick up" the computational aspects of their work as they go. This may have been a reasonable expectation in decades past. But now there is so much going on in computer science and software development that it is impossible to keep up, let alone get ahead. As both authors have run this gauntlet and survived, we understand the perspective and challenges of physical scientists and engineers who are starting out in computing - no matter what point they are at in their career. Effective Computation in Physics will give you the computational foundation that you need to succeed in your work.
Table of Contents
Foreword by Greg Wilson of Software Carpentry
Chapter 1 - Introduction to the Command Line
Chapter 2 - Programming Blast Off with Python
Chapter 3 - Essential Containers
Chapter 4 - Flow Control & Logic
Chapter 5 - Operating with Functions
Chapter 6 - Classes and Objects
Chapter 7 - Regular Expressions
Chapter 8 - NumPy: Thinking in Arrays
Chapter 9 - Storing Data: Files & HDF5
Chapter 10 - Important Data Structures in Physics
Chapter 11 - Analysis and Visualization
Chapter 12 - Performing in Parallel
Chapter 13 - Deploying Software
Chapter 14 - Building Software Pipelines
Chapter 15 - Local Version Control
Chapter 16 - Remote Version Control
Chapter 17 - Debugging
Chapter 18 - Testing
Chapter 19 - Documentation
Chapter 20 - Publication
Chapter 21 - Collaboration
Chapter 22 - Licenses, Ownership, and Copyright
Chapter 23 - Further Musings on Computational Physics